About Us
Angelo's Pizza and Pasta is located in Como, WA on South Terrace. We offer the most fresh and delicious pizza and pasta cuisines for delivery or pick up. Some of the dishes we offer are: Vegetarian Gourmet Pizza, Seafood Pizzas, Chicken Pizzas, Meat Pizzas and Classics as well as pasta and side dishes. Our great vegetarian pizzas include Spicy Pumpkin, Avocado Ricotta and Vegie. Our pasta dishes include Ravioli in Bolognese Sauce, Tortellini in Carbonara Sauce as well as other beef dishes with delicious sauces. Patch, which includes mushrooms, sun-dried tomatoes, marinated eggplant and more. Be sure to order through our convenient online ordering and receive a free text message with the delivery time of your order.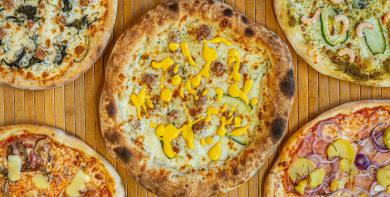 Reviews
Jilla
"Awesome pizza but forgot the mussels"
10/06/2022
Mark
"Great pizza! Obviously popular because the wait time wasn't short but their estimated delivery time was spot on. Nice work. Would order again."
29/05/2022
Priscila
"Wonderful pizza."
21/05/2022
Tameeka
"Always great quality food and friendly staff! Love our local pizza place!!"
13/05/2022
Menu
Contact Us
Find Us
153 South Terrace (Corner Canning Highway), Como, 6152
Opening Hours
Monday
4:00 PM - 11:00 PM
Tuesday
4:00 PM - 11:00 PM
Wednesday
4:00 PM - 11:00 PM
Thursday
4:00 PM - 11:00 PM
Friday
4:00 PM - 11:00 PM
Saturday
4:00 PM - 11:00 PM
Sunday
4:00 PM - 11:00 PM
Please note, delivery times may vary.
We deliver to
6000 Perth, 6003 Highgate, 6003 Northbridge, 6004 East Perth, 6100 Burswood, 6100 Lathlain, 6100 Victoria Park, 6101 Carlisle, 6101 East Victoria Park, 6102 Bentley, 6102 St James, 6103 Rivervale, 6104 Belmont, 6104 Redcliffe, 6105 Cloverdale, 6105 Kewdale, 6106 Welshpool, 6107 Cannington, 6107 Queens Park, 6107 Wilson, 6148 Riverton, 6148 Rossmoyne, 6148 Shelley, 6149 Bull Creek, 6151 Kensington, 6151 South Perth, 6152 Como, 6152 Karawara, 6152 Manning, 6152 Salter Point, 6152 Waterford, 6153 Applecross, 6153 Ardross, 6153 Brentwood, 6153 Mount Pleasant, 6154 Alfred Cove, 6154 Booragoon, 6154 Myaree, 6155 Willetton, 6156 Attadale, 6156 Melville